Whoopdies
News, Product Reviews and More
Be sure to check this page for frequent updates where we'll give honest product reviews, tech tips for both snowmobiling and ATVing, news impacting our hobby and more.
No longer do you have to pay $300, $200, or even $100 for a set of high quality polarized sunglasses. 509 has broken the mold & pegged the coolness meter, without robbing your wallet of your last green backs. 509 films is proud to announce the launch of the 100% polarized line of sunglasses. Made of only the highest materials and crafted to the highest standards. The new line sunglasses feature a polarized smoke lens and only the best styling, that you've come to expect from 509. Each sunglass is backed with a lifetime warranty and comes with a soft pouch and hard case.
Features:
- Polarized Smoke Lens
- Soft storage pouch
- Rugged hard case
- Lifetime warranty
Boyesen Power Pack


If you're performance minded (faster, farther, more efficient), then the Power Pack system from Boyesen is for you. The company reports that the system will optimize airflow and fuel delivery, eliminate off-idle hesitation and provide your sled with increased horsepower and torque through the entire rpm range. Through Boyesen's research, the best features of the company's Rage Cage are coupled with the performance that the Boyesen Power Wing and reed systems offer. It's a cast aluminum system. Currently the Power Pack is available for '04-08 Ski-Doo SDIs and '05-07 Ski-Doo Mach Zs, but the company is likely to expand to the other Big 4 soon.
XP Hot Air Elimination Kits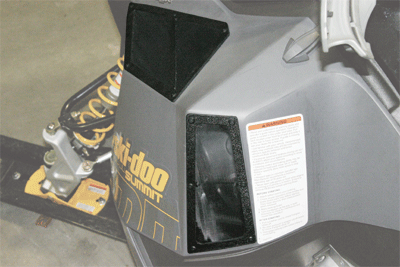 SLP Hot Air Elimination Kits help reduce stagnant underhood hot air to maintain higher horsepower by delivering additional cold air intake and hot air escape from the chassis. This kit includes one shock tower air inlet vent, an upper side panel air vent, and one outlet vent. Each vent utilizes a powder snow pre-filter that repels snow and water, yet allows air to pass right through.
Accurate machine. High quality steel billet is hardened and tempered to our specification.