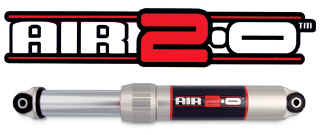 Ryde FX 8200 series (front)
Patented Low Fade Orifice Carrier: Provides a seamless transition from a smooth low speed ride, to firm, well-controlled high speed handling
Gas Cell: Eliminates foaming of the oil, providing consistent performance throughout the life of the shock (non-rebuildable)
Microcellular Urethane Bumper*: Stays soft even at the lowest temperatures and eliminates hard bottoming
Ice Scraper*: Scrapes ice off the rod, which prevents moisture from entering the shock and contaminating the oil
Front Ski replacement (all MXZ & REV)
$119
Front Ski replacement (all Summit MXZ & REV)
$119
Ryde FX 8400 series (front)
Compression Screw Adjust: 300% range of adjustability developed to suit the individual rider and to adapt to changing conditions
Anodized Aluminum Body: Superior corrosion resistance, lightweight, and new millennium look, providing maximum appeal
Gas Cell: Eliminates foaming of the oil, providing consistent performance throughout the life of the shock (non-rebuildable)
Microcellular Urethane Bumper*: Stays soft even at the lowest temperatures and eliminates hard bottoming
Ice Scraper*: Scrapes ice off the rod, which prevents moisture from entering the shock and contaminating the oil
Front Ski replacement (all MXZ & REV)
$175
Ryde FX 8600 series (rear/rear)
Compression Screw Adjust: 300% range of adjustability developed to suit the individual rider and to adapt to changing conditions
Patented Low Fade Orifice Carrier: Provides a seamless transition from a smooth low speed ride, to firm, well-controlled high speed handling
Anodized Aluminum Body*: Superior corrosion resistance, lightweight, and new millennium look, providing maximum appeal
Gas Cell: Eliminates foaming of the oil, providing consistent performance throughout the life of the shock
Microcellular Urethane Bumper*: Stays soft even at the lowest temperatures and eliminates hard bottoming
Ice Scraper*: Scrapes ice off the rod, which prevents moisture from entering the shock and contaminating the oil
Rear replacement (all MXZ & REV)
$175
Ryde FX 9200 series (rear)
One piece extruded aluminum cylinder combines solid strength, greater gas retention and light weight performance
Anodized aluminum shock body for superior corrosion resistance
*Microcellular urethane bumper stays soft even in extreme conditions to prevent hard bottoming.
Integrated ice scraper within the cylinder head assembly keeps ice off the rod, which prevents moisture from entering the shock and contaminating the oil.
Raised valve seat piston continuously flushes discs and orifices of potential contaminates; eliminating the possibility of undesirable damping.
Large diameter IFP O-ring increases the allowance of higher gas pressure without compromising the seal for the separation of gas and oil mixing with one another.
Solid Teflon Piston and IFP wear bands prevents scoring of cylinder, as well as providing long life consistency in damping.
Super finished Chrome rod provides not only an improved surface finish for longer seal life but a thicker coating of chrome that is resistant to pitting and corrosion.
Rear (Skidoo)
Rear (Polaris)
Rear (Arctic Cat)
Ryde FX 9200 series (front)
Front (Skidoo)
Front (Polaris)
Front (Arctic Cat)
Ryde FX Slide Shock Fluid
5WT
Semi-Synthetic
Superior wear protection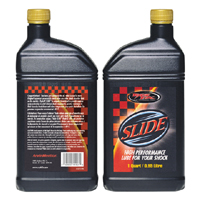 $14 per qt.
Ryde FX gas fill tool
RydeFX's rebuildable gas fill tool can easily be disassembled a reassembled for needle replacement using standard wrench sizes. Gas fill tool comes standard with pressure gauge and 5 pack replacement needles. Compatitble with FOX and Arctic Cat ACT shocks. 400 psi capacity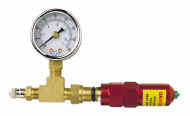 $189