Proflate 16 $20

The Genuine Innovations Proflate 16 CO2 inflator is designed for performance minded road and off-road cyclists. Comes with 16 gram cartridge.

This inflator is easier and faster to setup and operate than any of our previous cupped inflators. New features include a cup safety lock, pressurized cartridge indicator, Presta/Schrader valve auto detect dispensing outlet, and a built-in dust cap.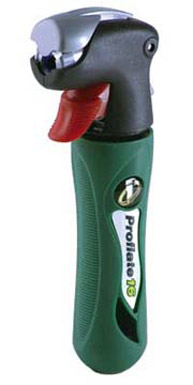 $20
ATV Tire Repair & Inflation Kit
$32
This kit contains a Genuine Innovations Ultraflate Plus CO2 inflator and three 16 gram threaded CO2 cartridges.
We also include a tire reamer tool, five plug sticks, tube and tire patch assortment, and glue, all stored in a 6.5" x 5" nylon zippered bag.
Features:
Easy to use front position inflation trigger.
Safety lock prevents accidental discharge.
Accepts ALL threaded and non-threaded Innovations CO2 cartridges.
Push on for Presta and screw on for Schrader valves.