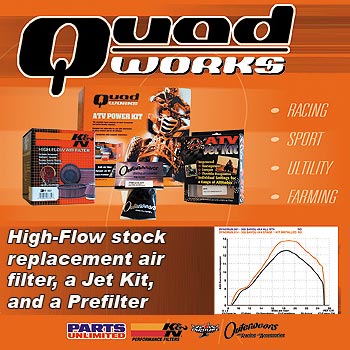 A Quad Works ATV Power Kit gives your ATV the complete package for more horsepower and better throttle response. Designed and adjustable for use with aftermarket or stock exhausts - also adjustable for all altitudes.

All Quad Works ATV Power Kits come complete with all instructions for easy installation. No matter what type of ATV you ride, Quad Works has the ATV Power Kit to give you the power and performance you need!

This is the industry standard ATV Power Kit. Each kit includes a High-Flow stock replacement air filter, a Jet Kit, and a Prefilter. This kit delivers better throttle response and an average of 10-15% more horsepower.

Also available for Cat, Kawasaki, Polaris, Yamaha, and Suzuki.

TRX300EX

$122.95

TRX300 FW 98-02

$130.95

TRX300 FW 92-97

$136.95

TRX350 Rancher

$130.95

TRX200 D

$133.95

TRX250 Recon 97-01

$130.95

TRX250 Recon 02-04

$131.95

TRX250EX

$131.95

TRX400 Rancher

$130.95

TRX400 FW Foreman 96-97

$136.95

TRX400 FW Foreman 98-02

$130.95

TRX400EX

$137.95

TRX450 FW Foreman

$130.95

TRX450R

$157.95

TRX500 FW Rubicon

$139.95

TRX650 Rincon

$139.95